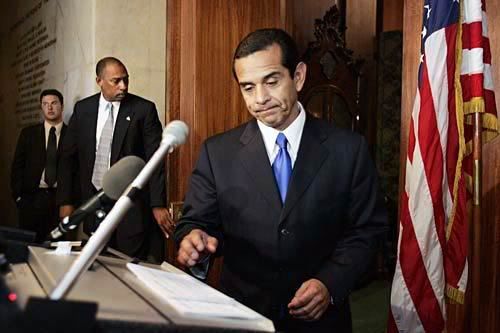 Mayor Antonio Villaraigosa arrives for a news conference about his relationship with Telemundo newscaster Mirthala Salinas. He was at the Dorothy Chandler Pavilion to attend the swearing-in ceremony for the Los Angeles school board.
A Latino star shines less brightly
His career may survive, but many are disappointed by Villaraigosa's involvement in scandal
Felipe Mares groped for words Thursday morning as he tried to explain his complicated feelings about the mayor he voted for with such high hopes just two years ago.

"I feel like a kid. I'm confused," said the Boyle Heights jewelry store owner, lamenting recent revelations of Mayor Antonio Villaraigosa's affair with a Telemundo newscaster.

Villaraigosa is "a person in a very important position," Mares said. "I think it's embarrassing. It's not supposed to be like that. He's supposed to be pro-family."

Over the last decade, the city's government has finally started to reflect its demographics. Los Angeles, with a Latino population of nearly 50%, has a city attorney named Rocky Delgadillo and a City Council on which five of 15 members are of Mexican descent.

But the telegenic Villaraigosa, one of the highest-profile Latino politicians in America and a likely future candidate for governor, has been the undisputed star. Shortly after his election as the first Latino mayor of modern Los Angeles, he made the cover of Newsweek, with the headline: "Latino Power." Democratic presidential hopeful Sen. Hillary Rodham Clinton bragged in May when she snared his endorsement.
Villaraigosa and Salinas wait out a pause in filming on the north steps of the state Capitol. Salinas is now a news anchor on Telemundo 52, June 19, 2006.
Flap wonders if Latino and Democrat leaders would be more nonplussed if the rumours sweeping Los Angeles are true:
Mayor Antonio Villaragiosa's affair with Mirthala Salinas was disclosed by Salinas herself because Mayor Villaraigosa was having an affair with another woman – unnamed Korean female developer.
The story goes that the "girlfriend" of a particular member of the City Council has "disclosed" that it was none other than Mirthala Salinas herself who allegedly leaked news of the affair she was having with the Mayor. Salinas' motivation? The Mayor had allegedly already moved on to a new relationship with an unnamed Korean female developer – and as they say "hell hath no fury like a woman scorned." (One of our readers posted a similar claim.)

And apparently it was the rumored relationship with the developer – and not necessarily Salinas – that was the final straw for Corina Raigosa, prompting her to file for divorce.
Yesterday various political consultants apologized for Hizzoner and said he reamained politically viable for the California Governorship.
Flap doesn't think so.
Mayor Villaraigosa is DONE – PUT A FORK IN HIM.
Mirthala Salinas, a Telemundo newswoman, interviews L.A. Mayor Antonio Villaraigosa at the state Capitol on June 21, 2006. Villaraigosa has now acknowledged that he has "a relationship" with Salinas.
Related:
TV anchor put on leave while ethics studied
Previous:
Mayor Antonio Villaraigosa Watch: Mirthala Salinas Placed on Leave by Telemundo
Mayor Antonio Villaraigosa Watch: Still A Contender for California Governor in 2008?
Mayor Antonio Villaraigosa Watch: The End of a Political Career
---
Technorati Tags:
Antonio Villaraigosa
,
Mirthala Salinas
,
Telemundo
Fabian Nunez