Mayor Antonio Villaraigosa Watch: He's BACK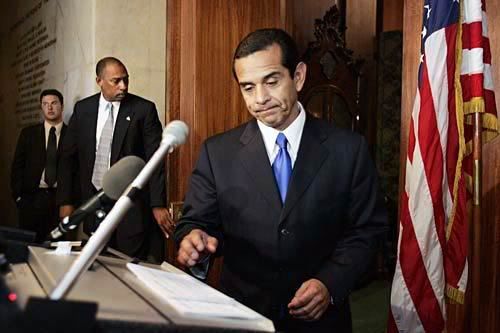 Mayor Antonio Villaraigosa arrives for a news conference about his relationship with Telemundo newscaster Mirthala Salinas. He was at the Dorothy Chandler Pavilion to attend the swearing-in ceremony for the Los Angeles school board.
LA mayor returns to public stage
Mayor Antonio Villaraigosa emerged from seclusion Monday to attend a news conference on school funding, his first public appearance since he confirmed an extramarital affair with a TV newscaster.

Villaraigosa maneuvered through reporters in the hallway before the event, flashing his trademark smile but ignoring shouted questions about reporter Mirthala Salinas.
When asked if he was trying to burnish his image by returning to city business, he replied: "Just doing my job."

Villaraigosa, 54, disappeared after confirming his relationship with Salinas on July 3. He had no public appearances on the Fourth of July and skipped the official opening of New York Sen. Hillary Rodham Clinton's Los Angeles headquarters even though he is a national co-chairman of her presidential campaign.
Look for pothole filling ceremonies and a news conference with Cardinal Mahoney. Then……
Might the good Mayor be heading to rehab? And why not? Everyone else does.
Note: No answers to any questions – who will squeal first? Any bets?
Maybe he will take LA Times apologist columnist Gregory Rodriguez's advice:
The mayor is getting lots of advice right now from all over. Here's mine: Stop trying so damned hard to be liked. The ridiculous across-the-board perfection you and your deputies seek to portray ultimately works against you. You don't have to be Superman. The public is more likely to respect you if they know that you know that you are as flawed as they are.
Doubtful……..
Los Angeles Mayor Antonio Villaraigosa greet students and members of the parent union at a press conference where it was announced that the Bill & Melinda Gates Foundation will spend $7.8 million to open 10 new high schools in the community served by the Alain Leroy Locke Senior High SChool in Watts, at the Green Dot Public Schools Headquarters in Los Angeles, Monday, July 9, 2007.
Update:
Now the AP says the Mayor made some brief comments:
"I made a mistake," Villaraigosa said, after being asked if disclosures about the affair had damaged his credibility.

"I'm not perfect. I've always said that when you do something that undermines your support in some way or causes people to lose faith in you in some way, you've just got to get back and accept your responsibility and do your job."
Guess he read Rodriguez's column.
Update #2
Mayor Tries To Switch Media Focus From His Personal To Work Life
At a news conference announcing a grant by the Bill and Melinda Gates Foundation to build charter schools in Watts, the beleaguered mayor was surrounded by reporters asking whether his affair with Mirthala Salinas. The mayor was asked if there were any other affairs, KNBC's Conan Nolan reported.

"The answer is no," he said. "But I'm not going to respond to all of those issues. We're going to focus on our job. Look, I accept responsibility. I obviously caused a great deal of pain to my family, to many people involved here. Some people feel let down and I understand that. And I'm going to focus on my job, do the best job I can for the city of Los Angeles and the people will have to evaluate me based on that."
Well, did he say NO OTHER AFFAIRS?
Or NO he would not discuss them or respond to that question?
Hummmmmmmm
More questions.
Did the Mayor give himself wiggle room in case another person comes forward?
And he defended Mirthala Salinas:
Villaraigosa said Monday he does not believe Salinas acted inappropriately.

"My hope and expectation is that the review of this matter by the management at Telemundo and NBC will vindicate her and, of course, I wish her the best of luck in that regard," he said.

Salinas issued a statement last week saying she welcomed the investigation and believed she would be vindicated.

"I welcome Telemundo's decision to conduct a comprehensive review of the matter and respect their desire that I allow the review to be completed before returning to work," she said. "I will cooperate with the station and appreciate their commitment to undertaking a thorough review of this situation. I'm confident that when all the facts are analyzed, it will be clear that I conducted myself in an appropriate way."
A rather weak defense, wouldn't you say?
Is Mirthala being thrown overboard?
Stay tuned……
Previous:
Mayor Antonio Villaraigosa Watch: Monday Antonio and Mirthala
Antonio Villaraigosa Watch: Latinas Feel Betrayed As MORE Rumors Circulate; Update: More Women to Watch?
Mayor Antonio Villaraigosa Watch: Sabrina Kay Rumors Heat Up Los Angeles City Hall
Mayor Antonio Villaraigosa Watch: Fading Latino Star – Another Alleged Affair Leaves Questions
Mayor Antonio Villaraigosa Watch: Mirthala Salinas Placed on Leave by Telemundo
Mayor Antonio Villaraigosa Watch: Still A Contender for California Governor in 2008?
Mayor Antonio Villaraigosa Watch: The End of a Political Career
---
Technorati Tags: Antonio Villaraigosa, Mirthala Salinas, Telemundo, Fabian Nunez, Sabrina Kay