Mayor Antonio Villaraigosa Watch: Sabrina Kay Says NO To Affair with Mayor; Mayor Says NO to Other Affairs
Los Angeles City Planning Commissioner and Philanthropist Sabrina Kay

Commissioner says leave her out of this
Some anti-Villaraigosa blogs have been gleefully spreading anonymous hearsay that city planning commissioner Sabrina Kay is another girlfriend of the mayor. At today's photo op du jour, he flatly denied that there have been any other women in his recent past — "a definitive, absolute no." Kay issued a statement of her own:
Sabrina Kay's statement:
Regarding the allegations being bantered about concerning myself and the Mayor, let me say most emphatically that they are completely false. I have never had a romantic relationship with anyone in City government, or any other government for that matter.

I thought we had long passed the time when society thought a woman could succeed in only one way. I have spent my entire professional career trying to do the right thing. That is the only reason I accepted the challenges of assisting the City in its efforts to expand its commercial base. I cannot express how hurt I am that after so much effort, my success is trivialized in this way.

This will be my last comment on this completely false non-story.
Ok, Flap can accept her denial.
But, why is her relationship with the Mayor being played up so big in the Korean Press?
Remember this:
And the translation:
Sabrina Kay (Chung Hee Kim) is an influential Korean-American designer in L.A. She's also a long-time political ally of Villaraigosa, going back to when he was in the California state legislature, when she hosted fundraising parties for him. Recently, since his election as mayor, Villaraigosa brought Kay with him (and about 10 others) on a visit to China, Japan, and Korea. This was in the fall of 2006. Although the visit was supposedly for the purpose of attracting Asian investment in LA, the article's sources say the trip was not well planned, did not result in meetings with Korea's most important corporate leaders, and did not bring in any significant investment for LA. The paper wonders what was the mayor's intention of visiting Korea.

The one memorable event was when Villaraigosa appeared as a model in Sabrina Kay's fashion show wearing her clothing (pictured above). The fashion show was sponsored by the Hyundai Dept. Store. It was meant to promote LA's fashion industry.

The tour generated considerable gossip. One source says the article doesn't quite say the gossip was of a romantic nature. Another source says the article rumors that Kay is the mayor's mistress. The article suggests that the mayor was giving Kay a lot of free publicity, by implying an endorsement.

The article also wonders how Kay, a fashion designer, landed in the LA Planning Commission position.
Good question: why a rich fashion designer who made her fortune in CAD-CAM fashion design is now dealing with planning and community development issues? And Mayor Villar DID appoint her.
But, alas, the LA Mayor denied yesterday any other romantic relationships other than the one with Mirthala Salinas – the one which broke up his long term marriage.
What about rumors of a relationship between Villaraigosa and yet another woman?

"Mr. Mayor, since you took office July 1 of '05, have you had any other romantic relationships other than with Ms. Salinas?" one reporter asked at a news conference in Eagle Rock ostensibly to tout Villaraigosa's plan for filling 350,000 potholes next year.

"No," Villaraigosa replied curtly as the news conference devolved into a chaotic free-for-all with reporters shoving their microphones in his face and shouting questions in English and Spanish.
At a banquet in Shanghai China the LA Planning Commissioner, Sabrina Kay, stands by her mayor
End of story?
Doubtful………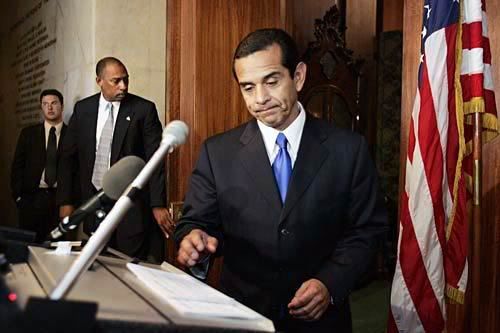 Mayor Antonio Villaraigosa arrives for a news conference about his relationship with Telemundo newscaster Mirthala Salinas. He was at the Dorothy Chandler Pavilion to attend the swearing-in ceremony for the Los Angeles school board.
Previous:
Mayor Antonio Villaraigosa Watch: He's BACK
Mayor Antonio Villaraigosa Watch: Monday Antonio and Mirthala
Antonio Villaraigosa Watch: Latinas Feel Betrayed As MORE Rumors Circulate; Update: More Women to Watch?
Mayor Antonio Villaraigosa Watch: Sabrina Kay Rumors Heat Up Los Angeles City Hall
Mayor Antonio Villaraigosa Watch: Fading Latino Star – Another Alleged Affair Leaves Questions
Mayor Antonio Villaraigosa Watch: Mirthala Salinas Placed on Leave by Telemundo
Mayor Antonio Villaraigosa Watch: Still A Contender for California Governor in 2008?
Mayor Antonio Villaraigosa Watch: The End of a Political Career
---
Technorati Tags: Antonio Villaraigosa, Mirthala Salinas, Telemundo, Fabian Nunez, Sabrina Kay